Informative meeting
During our informative meeting you get informed about several aspects all around your study visit or work stay in Germany.
We inform about:
visa application
registration for an online course
German classes
Entry to Germany
Online courses
Learn German location-independent
You only need:
an 16.000 DSL internet access (16 MBit/s)
a computer or laptop
a headset or earphones with microphone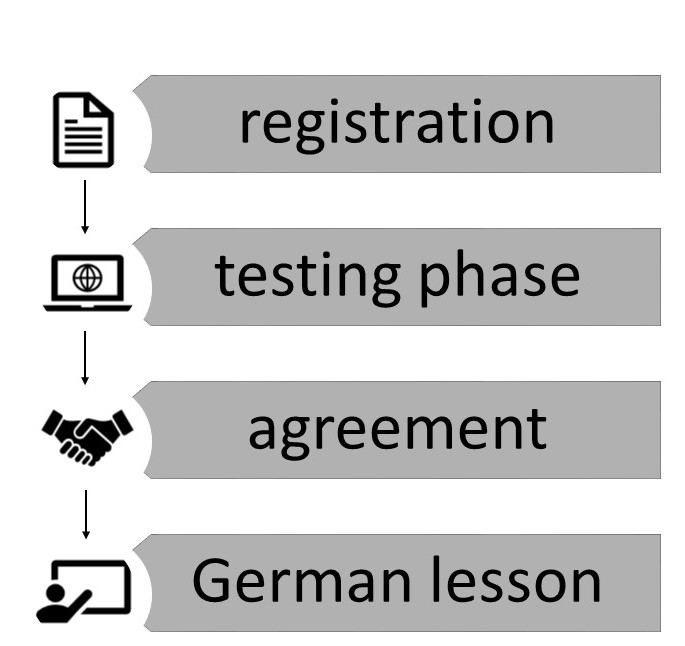 Subscribe for a course of your choice (level A1, A2 or B1) and you get an individual invitation with the link to your test bed with Adobe Connect.
During the test stage you become familiar with the user interface of Adobe Connect and check the technical requirements without obligation. Adobe Connect is a very reliable und flexible online service, which is proved in realizing online lessons.
After clearance with you and if all basic conditions are secured, you going to receive the bill for your course. Each level (A1, A2 or B1) costs across-the-board 800€. This includes the courseware, the access to the live lessons, the final examination and a qualificatory certificate. After the settlement of the account you get further information regarding your class.
The lessons take place live at concerted time. As in an usual classroom you are able to ask the teacher questions, to work together with other participants in groups and to solve tasks. The courseware is provided online as well.
Get started and subscribe for an online course!
After your registration you will get an e-mail within a short spell, containing your individual access code to your test bed with Adobe Connect.
If you have got further questions do not hesitate and contact us per e-mail under marie.sachs@comcenter.eu.
next class - A1 level
from 25.02.2019
(ca. 10 weeks, monday to thursday, time as agreed)